She is full of energy, overflowing with imagination and loves to act goofy… But don't be mistaken, Edith Brou knows what she wants and everything she touches just turns to gold. With only 35 years old, the most famous geek of Cote d'Ivoire has successfully managed to popularize digital jobs in a country where only 22% of the population connects to internet on a regular basis.
From shy girl to communication guru
If Edith describes her journey on Information Technologies as an evidence, the gamble was far from being won… As a teenager, Edith was pretty shy and to some extent even agoraphobic. Her parents who dreamt of the career as public servant for their daughter, convince her to attend the very respectable classes of Economics and Management at the University of Abidjan. After two years, she drops out to the horror of her parents, convinced to the core that her path is elsewhere… She finds a job in a local audiovisual production company as an account manager. Around her, nobody understands what she is doing, but she keeps moving…
2007, this is the boom of social media and Edith is an avid user of online platforms …She even meets and bonds with several young people fond of IT just like her. And they only swore by internet. For the first time, Edith feels home surrounded by IT nerds. Very soon, the community grows and organizes itself. Edith together with two other young men founds Akendewa, a non-profit organization which aims at promoting IT in Cote d'Ivoire. Edith is spreading her wings. Motivated by her growing passion of new technologies and Internet, she spends sleepless nights on collaborative platforms on line, crafts her own skills, reaches out to and trains other young people. Her contagious dynamism gets her noticed by the local company AOS, who hires her as a web project manager and community manager. A few years later, in 2012 the Senegal-based digital company People Input recruits her as a project manager and later as country manager. On a daily basis she is in charge of the design of websites, development of mobile applications, SMS services, e-reputation, and management of social networks for several companies in the sub region.
Jane of all trades and master of … All
If Mrs. Brou is an advocate for associations advancing the digital cause in Cote d'Ivoire, she does not stop there. In 2009, she starts the blog L'Actu Web d'Edith where she extensively shares on latest technologies, topical issues on the web, new mobile developments and any innovation happening on the black continent. And that's not all…Passionate about women empowerment and in love with the universe of blogging and she launches in 2011 with a childhood friend, the first Ivoirian and feminine Webzine, named Ayana, dedicated to confident young women who are in tune with their times. As she keeps pushing her boundaries, she naturally embarks on the entrepreneurial journey. Fully aware of the tremendous needs in terms of digital marketing and resolved to put forth the creative energy of a new generation of Africans, she founds in 2015 her own company African Group Contents. The digital company which is specialized in digital content branding has also developed an infotainment (information and entertainment) platform named Buzzy Africa with 10 000 visitors per day. Edith even creates and releases her own productions on Youtube such as "The Digital Couch", "Edith has tried it". You've got it, no need to draw a picture…Edith Brou is a recognized and acknowledged as the reference on the Ivoirian Technological, blogging and digital fields.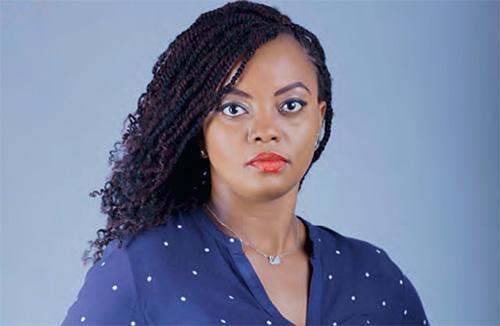 Edith's fame has now reached far beyond her native country. In 2014, she was spotted by the ITU (International Telecommunication Union) to participate in the programme Young ICT policy leaders in South Korea. In 2015, she was even designated by the renowned French speaking pan African newspaper, Jeune Afrique as one of top 50 personalities that are moving Africa. She often collaborates with the World Bank or the African Development Bank on specific ICT missions.
A resolute web activist
As a child, Edith was active for several years as scout. This experience shaped her and gave her a strong sense of solidarity and civic commitment. In the same vein, she sees the web as a powerful "tool for everyday citizens ". And many times she and other tech-activists proved that the web and social media can be powerful tools to serve and impact positively local communities. For instance, during the post-election crisis in 2011, the initiative #civsocial collected critical information on injured people saving the lives of 80 people and allowing 2 pregnant women to give birth in safe conditions. In 2014, during the Ebola crisis, she launches #mousser contre ebola (foam to fight Ebola) an Ivorian version of the famous ice bucket challenge to sensitize local population on basic hygiene rules to stop the pandemic of Ebola. And those are selected examples, just to name a few…
For Edith, ITC and digitalization are not just trends but they have the power to revolutionize a continent where nearly 60% of its population is under 35 years. ICT and the web offer unique opportunities to create new jobs.
And as the current President of the Association of Ivoirian Bloggers (ABCI), Edith is never on shortage of new ideas to promote and give visibility to new talents in the tech and entrepreneurial fields… For this young mother of two boys, the challenge goes beyond mere online marketing… She strongly believes that African countries should rethink their development strategies by fully embracing digitalization. Digital and mobile innovations are already providing valuable solutions in terms of financial inclusion (through fintech and mobile financial services), access to health, education, energy and even drinkable water. Internet is today an economy on its own that just cannot be ignored.
Ivoirian enterprises have a growing need in new jobs such as programmers, developers, coders, cyber security and data collection experts, information system analysts, graphic designers etc. Yet, young Ivoirians have to fully seize those opportunities. As Edith keeps saying, there is an urgent need to build skilled human capital. In this regard, universities and specialized schools have to play their part.
Another cause is close to Edith's heart: the emergence of African-generated online content. Indeed, potential users do not always find the internet relevant enough. Therefore community-based services and administrative institutions should anticipate and meet the needs of users by creating and sharing local content on the internet. Some would say it's an entire agenda. One thing is for sure, Edith is determined to make her contribution and she does not intend to stop off on the way…