She has swag and she owns it. To many people in Vienna, she is the most famous voice of Radio Afrika. Today, I am very excited to present you Hottensiah Muchai! And as you will see she has more than one string to her bow…
Who is Hottensiah Muchai? Can you introduce yourself to our readers?
Hottensiah Muchai is a media personality, singer, songwriter, motivational speaker and a free spirit in summary (laughter). But I am also a sister, a daughter, a fiancée, a friend and I am a lover of life.
Can you describe yourself in 3 adjectives?
Relentless, ambitious and free spirited.
Where does your passion for singing come from?
I was a three or four year old if I remember well. This is what my parents told me. My grandfather was a pastor at our local church. He would preach and lead the hymns. However, when the hymns were over, I was the only one who continued singing and they expected this to happen in all the services. I would say church is definitely where my passion for singing begun.
You are also the founder of Diaspora Colors, what is it actually about?
Diaspora Colors is a multimedia program that gives a platform to individuals from Africa living in the global diaspora as well as those with African roots, to be seen and heard and have their success stories showcased, especially if they are creating meaningful impact on the lives of others and making a difference in their community with their skills, talents and businesses to the European, African and Global audience at large.
Diaspora Colors also partners with African based businesses and companies interested in reaching the large diaspora community in Europe. With plans underway to expand to Australia, this platform partners with organizations that seek to establish meaningful and sustainable connections to the diaspora by organizing workshops, conferences and seminars while offering media services which include print, radio and TV interviews ahead of any planned event.
Being an African living in the diaspora I felt we had no platform that was showcasing Africans in such a massive and meaningful way.
I wanted to create this visibility because I strongly believe that we have a lot to offer as a people. Many people of color here ask and constantly seek ways they can promote their business, skills, or talent because they would not get the opportunity in the mainstream media easily for sure. We therefore need to create platforms ourselves for enhanced visibility and nothing will hold us back.
Being an African living in the diaspora I felt we had no platform that was showcasing Africans in such a massive and meaningful way.
How is you musical career growing in Vienna? What are your current projects? Are you working on an album?
Right now I am musically balanced. I am doing a lot of performances in and around Vienna. I have my solo performances as well as collaborations in studio and on stage with other musicians. It feels great as I am moving at a pace that allows me to explore my other opportunities without too much pressure.
I'm also more focused on making my material available digitally and have more of an online presence.
I am currently compiling my album and working with producers and artists based here in Europe and in Africa.
Where do you take your inspiration from?
Everywhere and from everything actually. I can go on my phone, read or listen to something and I will get inspired. I can be sitted with a friend or mentor and they are speaking into my life or my situation without them knowing it. I am very a spiritual person and I start with inspiring myself. You are a spirit and when you wake up in the morning, you should be able to talk to yourself, believe in yourself, and inspire yourself. This is the inner core of your being and existence and if you don't do it and inspire yourself first, nothing externally can push you to become what you can truly be and that is being the best version of yourself.
Sometimes it's a battle especially when one has to deal with situations that are beyond ones control, but it's important to keep reminding yourself to stay centered, inspired and to keep moving forward.
I also take inspiration in music be it African music, world music, jazz and classical. Music is literally food to my soul.
I also get inspired by young African women that are trailblazers in the film, media, music, business and fashion industry such as Lupita Nyongo Nomzamo Mbatha, Bonang Matheba, Caroline Mutoko and Terry Ann Chebet, Toke Makinwa, Kika and Chioma of Goodhair Ltd… and many more. I know and have worked with some of them personally and their personal and professional journeys have been such a source of inspiration and proof that nothing is impossible if you set your eye on the prize.
And finally, I'm a bookworm. Reading inspires me a lot too. Philosophy, motivational and non-conventional books. I always carry a book or two with me everywhere I go.
What makes you fulfilled?
Love and Life! When I wake up I just seize the chance to keep loving, living and trying again. You can go to sleep one night and never wake up. If I get the chance to love, receive and share love that fulfills me. When I also get the chance to smile whilst walking down the street I do just that (laughter), it feels good because living here it's rather rare to see that. Indeed, back in Kenya it was very different, people are talking to you all the time. You are sitting in the bus, walking the streets and everybody is conversing and laughing. And coming here it takes that away from you as the culture is different.
These small things in life really fulfill me when I get to exercise them. I also love to work out in the gym and run. This balances and fulfills my mind, body and soul.
I'm also fulfilled when I'm able to achieve the goals that I have set for my day which are usually leading to achieving my short and long term goals. I have learnt to eat the frog in the morning. This is a metaphor which means, you've set all these goals and tasks that need to get done but you begin with the hardest and most difficult ones first. This leaves you plenty of time to work on other tasks seamlessly and without unnecessary pressure.
Finally, being in constant communication and meeting up with people I hold dear and near fulfills me greatly. The love and energy we exchange when together is beautiful and that's enough for me.
You are a multimedia journalist and a performing artist, where do you see yourself in 5 years?
My plan is to have a fully-fledged media company and that is why Diaspora Colors was born. It is a part of me. I want to expand and be bigger. I want Diaspora Colors to be that one stop for interested stakeholders.
A bridge between African countries and the diaspora, where businesses can connect with each other and with people living in the diaspora and where talents can connect with each other too. I would like it to be a full media platform encompassing print, the web, radio and TV with different hosts, reporters, and writers. Diaspora Colours is already facilitating business connections between Africa and Europe.
I also want to release and album and distribute my music and perform worldwide.
I also have some entrepreneurial ideas I've been working on that I'd like to launch under my personal brand.
I also launched the Hottensiah Muchai Foundation in 2017 with the aim of championing the fight against domestic violence and violence against women. I give several talks addressing this issue across platforms in Europe and work hand in hand with organizations in Africa that are directly involved in this matter in regards to helping victims affected by this type of violence. I would like to see the efforts of my partners and I double or triple in 5 years in the aim of reducing this violence.
What are the challenges that you face in your media career?
Lack of diversity. I had to prove myself. It has been seven years now since I started studio time in radio and TV as a journalist. It has become easier over the years though. Now as the editor-in-chief and programmes director, I let my work and our work as a team shine as I know we have a very rare window of opportunity to work at the national broadcasting station, ORF and we have to make the best of it. It was hard in the beginning because you're from a different culture but if you present great content and professionalism, the management eventually acknowledges your team's efforts. I would say that afterwards you assimilate and blend in the organization. Eventually your team becomes an asset. In our case, we (Radio Afrika) have been featured severally in ORF TV (Austrian National Broadcasting Television) on our contribution to the media industry and we are regularly asked to work on several collaborations.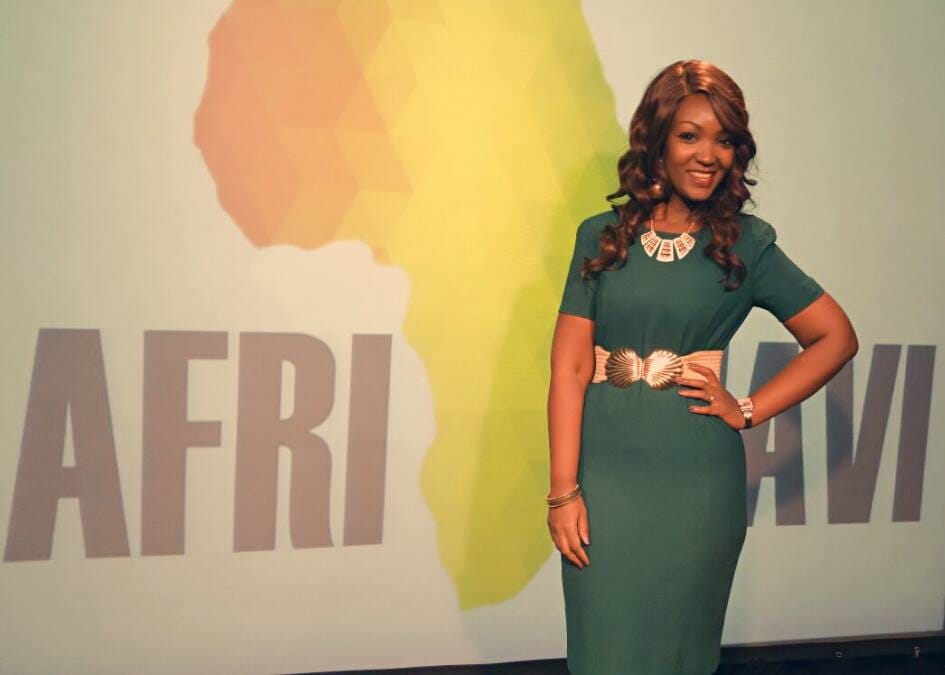 What is your advice to women of the African diaspora who want to develop their talent and thrive?
Being in journalism you get to meet everybody from all walks of life. You meet people who are doing so well, who inspire you so much but you also meet people who are going through unimaginable difficulties and you come to the realisation that there isn't much difference between the two except chance and opportunity. One person got this chance and opportunity and the other person got the other or none. However, what you do with what you have is what counts, how you handle challenges, how you celebrate your achievements, how you assess yourself and situations around you, how you quickly pick yourself up when down is what determines your journey and overall success. All you personally have to do is keep moving forward. You have to keep going! You cannot live the same day twice.
We are so powerful as human beings and we need to harness and make use of that power.
There are lot of stereotypes about people of color but we need to look past them. We need to ask ourselves, how are we are going to change this narrative if it does not sit down well with us? There's always a danger of a single story, as the great author Chimananda Adichie puts it and this has been the story told about Africans for decades. We can, should and are telling a different story, the real story and this begins with how we portray ourselves and how we act. Let your part be strong, optimistic, intelligent, caring, nourishing and forward thinking regardless of the odds stacked against you. No matter where you come from, your future is never written in stone. You have the ability to live your best life yet!
As women, we also need to be supportive of each other but not from afar and not online, not with likes and waves across the streets and the famous line "We need to catch up" when we meet, something we are all guilty of (laughter).
When I compare black people living in Austria to those living in cities like London, Paris, Brussels, Berlin, and the difference is so obvious on how they support each other both personally and in business. I believe we are working towards this as a collective but we should accelerate this process and be a doing community that wants to see their own win at all costs. You'll be surprised at how far we can go. As the famous African proverb goes, if you want to go fast, go alone but if you want to go fast, go together.
You are a very confident woman, where do you take your confidence from?
I get it from my mama (laughter)! My mother is an angel she is amazing, she is a very poised woman she is a woman who has been through a lot but she rose above it and I still try to figure out where she gets that strength from. If my mum can do it I can do it. She gives me a lot strength. My Father is also my rock and has been a pillar of strength as I journey through life. He has been so supportive of my career and always encouraged me to go after my dreams. Also seeing how he has maneuvered his way through life and his leadership in the community has been a source of confidence and belief. My parents are a blessing that I don't take for granted. I am because they are.
What is your favourite quote?
"Honor your own light before you expect someone else to, love your own self before you expect someone else to , vibrate higher you own self before you expect someone else to , be a better person your own self before you expect you expect someone else to . What you desire to see in others starts within you first".