She is one of the most committed women of the African community in Austria. Always speaking up for a conscious diaspora, she proudly flies the flag for Burkina Faso, her country of origin. Let's connect with an engaging and determined woman…
Tell me about yourself. Who is Irène Hochauer-Kpoda and what is her personal and professional background?
My full name is Faai (which means "It is done "in the Dagara language, spoken in southwest of Burkina Faso) , Irène which means peace and Estelle meaning star. My parents gave me these names and I think that they suit my personality because I am a peaceful person and I define myself as someone who has also some light like a star, helping others to find their way. I was born in Batié, south west of Burkina Faso, as a second child to my parents and the first daughter of the family. I grew up in an intellectual family with strong values such as respect, dignity and integrity, solidarity, faith and great tolerance.
I received my bachelor degree in tourism and Hotel management and a Master degree in business administration both in Morocco, worked in a luxury Hotel in the capital city of Burkina Faso, Ouagadougou and then I came to Austria, where I got a degree in Restaurant and hotel management in the renowned Kleßheim international institute of Tourism and Hotel management in the city of Mozart, Salzburg . Later, I specialized in event and project management in Vienna.
Now, I am in charge of the logistical organization of conferences and panel discussions in VIDC (Vienna Institute for International dialogue and Cooperation), created by the late Austrian Chancellor, Bruno Kreisky.
Share with us 3 adjectives which describe you the best.
It is a difficult question, (Laughter) I would rather prefer 10 adjectives (Laughter). But if I had to reduce it to 3, the first adjective that characterizes me is that I am altruistic, I am very open to people. I am a solution-oriented person, which means that my eyes are not set on problems, my eyes are fixed on finding solutions. And finally, I define myself as a dynamic and very active person.
What makes you truly proud of the woman you are today?
You know as long as we live there is always room for improvement. When I look back at the 20 past years, I can say that what makes me truly proud of the woman I am today is first of all my children. I am very proud to have raised up two beautiful and smart girls. I call them my princesses. This is for me the focus of my life. Then secondly being truly aware of my African and Burkinabe roots have made me the woman I am today, with a great sense of solidarity. For me it is very important to express solidarity with other people or people in need, which I do in my projects. I define myself as a world citizen but still aware of her roots. In my home country Burkina Faso, you can only be proud as a woman, when you see every day how early they wake up , late they sleep, win the battle of social and economic welfare and the development of their family and their country at the same time. I am glad to be such a focused and successful woman.
Lastly the woman I am today is the result of experiences, sometimes painful ones. I am a very sensitive and spiritual person, I can feel the beauty of my soul and I am very proud of that because painful experiences of life could not stop me from being a positive, helpful and caring person.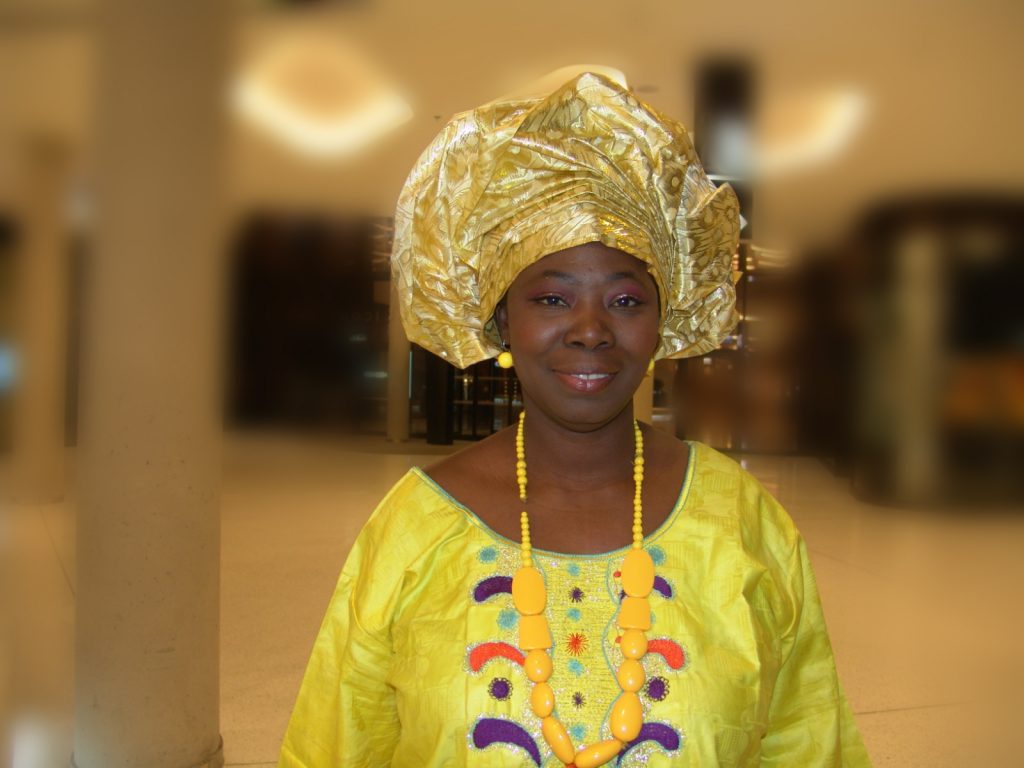 You are the founder of Barka Barka, why did you start this non-profit organization?
Barka Barka means "thank you, thank you" in the Dagara language. Why did we start Barka Barka? We went to Burkina Faso for holidays in the village of Foroteon, we noticed that people were lacking water and other basic things. So the idea was to do something about it and help people fulfill their basic needs but also improve their lives as whole. When my family and I came back to Austria, I decided to found the Barka Barka association. So we considered ways to bring water to people and we succeeded in securing financial support in Salzburg, building a well and a garden in Foroteon so that women have livelihoods to support their families, to cook healthy meals for their children, but also sell products on markets. We saw that the project went well and striving to have a bigger impact. We developed and started a project to contribute to the economic independence of women through shea butter (Karité), the "white gold" of West Africa. Also, we noted that the only school on Foroteon needed some school material and the children were so poor to get those material and some of them were sitting on the ground, so we developed a new project to help the school to get new material so that children have better access to education. And every year we organize a Christmas Party for the children of Foroteon and the surrounding villages.
Barka barka is working with the partner association Barka Barka Tifaafu on the ground in Burkina Faso, because we believe in teaching people how to do things for themselves to ensure sustainability in the long run. In Austria, the association has 4 members in charge of fundraising and drafting project proposals in collaboration with the partnering organization in Burkina Faso which is made up of 10 women and 10 men. This gender balance was very important for us. Indeed, the society in South West of Burkina Faso is very matriarchal, such parity is usual since gender matters in this region. It was important for us to bring the gender-balanced perspective in the association.
You wear many hats. Indeed, you are the Representative of the diaspora of Burkina Faso in 7 European countries. What is your role and what is the purpose of such a position?
Burkina Faso is one of the first African countries, which has recognized very early on the potential of the diaspora in the development process. We have a ministry fully dedicated to Burkinabe people living abroad which is mobilizing the diaspora in terms of expertise, remittances to contribute to the development of the home country. This diaspora Ministry puts a strong emphasis on the political rights of Burkinabe living abroad but also on defending their rights in the countries where they are currently living in..  I was elected as a representative of the Ministry of the Burkinabe citizens living Abroad where I cover the following geographical areas: Austria, Hungary, Serbia, Czech Republic, Slovenia, Slovakia, and Croatia. My role involves linking the Ministry of diaspora and the host country, to mobilize people from Burkina Faso to participate in the development of the country and also to be there to defend their rights in the host country. If Burkinabe have any problem in Austria, or one of these 7 countries, I am the person who is called upon, to go the administration and help resolve their issue. Naturally I benefit from the support of our Embassy in Vienna. On a daily basis, this is how we operate; we have an online group on which we exchange, because it is not easy to be there personally every time. I am living in Austria, where I have my main duties. When an occasion arises somewhere else, I go there and meet the Burkinabe when there is need for that. For the daily communication, we have portal platform, a Whatsapp group where we communicate all the relevant information, we share the activities.
You were the recipient of the PROSI Excellence Award 2019. How do you feel about it?
Since 2007 after the foundation of our association Barka Barka with our partner association in Burkina Faso, we have conducted all these activities and all implemented projects such as the school project, shea butter and corn grounding machine project for women economic empowerment, we also provided mosquito nets for households and families to cope with malaria. Last but not least, every year we have more than 800 children that are offered a Christmas party called " Arbre de Noel de Foroteon" (Christmas tree of Foroteon), at this party every child gets a kit with school material and other useful material such as solar lamps to help them study, go to school and learn for their future. Our message is children are the future of the country and Barka Barka cares for them. In 2019, PROSI (Indian international Foundation) based in Vienna chose me and my association Barka Barka as the recipient of the PROSI excellence Award 2019. I feel very grateful and proud about this recognition of 12 years of engagement for the people of my home country. For me this a sign that what we have been doing is not ignored, we have tried to help people and we have succeeded in doing so. Our work has been acknowledged. In my eyes, this is a challenge to do even more and better in the future.
You come from Burkina Faso, which means the "Land of Men of Integrity" in Mooré and Dioula Language. What does integrity mean to you?
First of all, it is not only men but also women of integrity (laughter). For us Burkinabe people this name is a very important signal to Africa and to the world from this small country in the middle of West Africa. Integrity means to me dignity, it means also honesty. It means a lot to me as an individual because in all my relations with human beings that has been placed on my way, I like to be fair to everybody, to act right, to be true to myself and true to other people. Because for me, being honest is a mark of respect to others and this is one of the values that makes me proud of myself when I look in the mirror. But it makes me also suffer watching this basic value disappearing in our society. For me it is about taking responsibility for our actions, put other's need above our own needs and being honest in everything, in everyday life. And lastly showing respect to everybody is a basic thing for me. Our late president of Burkina Faso, Thomas Sankara, showed our generation this way before he was assassinated.
One of your role models is Thomas Sankara, the young president who led a revolution while running Burkina Faso from 1983 to 1987. In your eyes what is the legacy of Thomas Sankara to younger African generations?
To me Sankara is an example of integrity. First of all, I would like to use his words, he said: "We have to work at decolonizing our African mentality and achieving happiness within the limits of sacrifices we should be willing to make".
This is a very strong message because we know that our continent is still colonized by Western countries in another way, the rush to exploit the natural resources of the continent. Every large developed region is rushing to Africa to have their share. The last coming player is China, we have to put a stop to what is happening because sometimes I have the feeling that we as Africans have a complex of inferiority. When we decolonize our mentality, when we sacrifice ourselves to make our continent prosperous, we will open our eyes and see which economic or social partners is good for us, to deal with them on an equal basis for the development of our continent. In one of his speeches he also said: "You cannot carry out fundamental changes without a certain amount of madness, non-conformity". Thomas Sankara was calling younger generations to have the courage to reinvent the future, not to sleep or just do the same things than have been done so far. He advocates to have a vision for where we want to be in 20, 50 or 100 years ahead.
Talking about women, Thomas Sankara said "Equality can be reached only by establishing a new society where men and women will enjoy equal rights. There is no social revolution without the liberation of women. May my eyes never see and my feet never take me to a society where half of the people are held in silence". This is a very powerful message acknowledging the role and the part of women in the society. This is a very relevant question even here in Europe.
Speaking of one the legacy of Sankara, discipline. We have to work and be disciplined. In the context of African continent, without discipline we cannot reach our goals. He also had a very positive attitude, a "We can make it attitude". We need such an attitude even if things are not so easy now.
For African leaders he is an example of African humility and public service. This is a very current issue, it is a legacy that every president, every elite in our African continent should look at to be better, to serve and not to be served. Thomas Sankara was the prophet of "produce and consume African products". This is very important, we are 54 countries in Africa if we produce and consume what we produce, we will definitely benefit from this huge market and will be strong in the context of the actual globalization. Thomas Sankara's spirit inspired the social protests that took place in Burkina Faso in October 2014. The spirit of Sankara boosted the younger generation to say no to more than 27 years of power without any development from the old regime which is now gone.
Some people see pan Africanism as outdated. What is your view on the topic?
I think that pan Africanism is not outdated, it is very relevant. If you look at Europe, several countries built a union in order to be strong. It is very important for countries not to go alone on the economic or financial market. Pan Africanism is a worldwide movement to encourage solidarity between African countries, based on the principle that unity is vital for economic, social and political progress. Pan Africanism is more necessary now than ever, having 54 countries coming together is a force to be reckoned with. If each country goes alone at a table of negotiation with the US, or the EU, this country will be very weak. But if we go as a continent together, we will be a powerhouse that will have its say in the political and economic realms at a global stage.
The diaspora plays also a very important role in Pan Africanism because it is very important that people from African-descent come together because of their common history and common destiny to implement this Pan Africanism.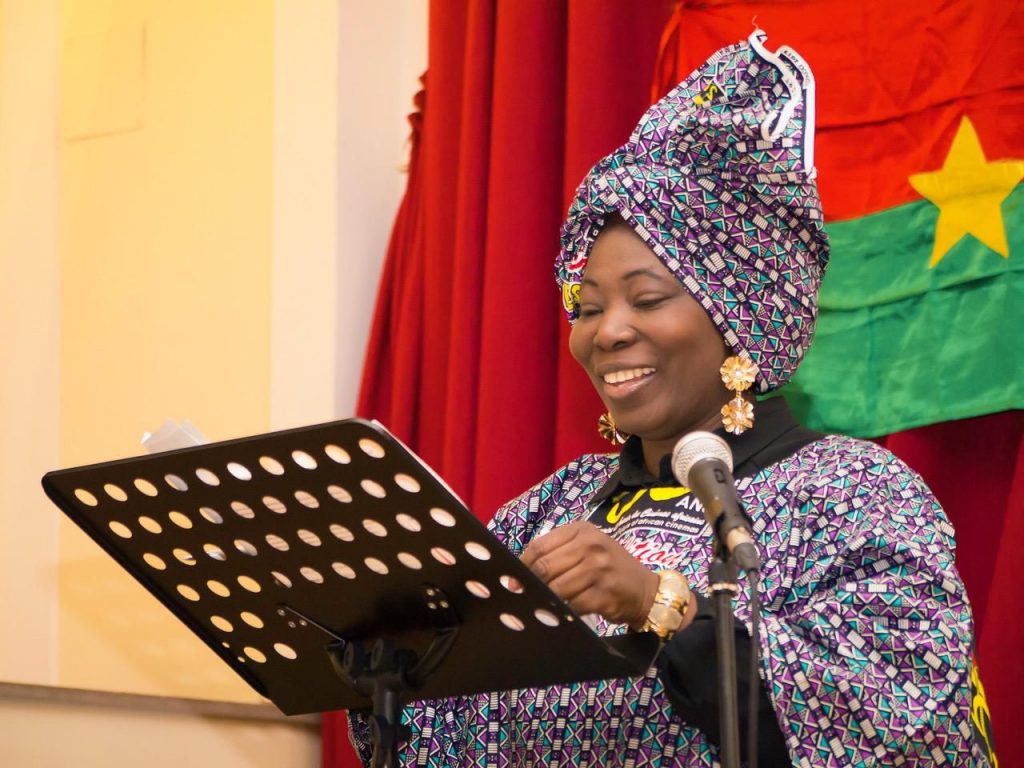 In March 2019, you organized a mini FESPACO Festival in Vienna. FESPACO is the largest movie festival in Africa, what motivated you to organize such an event?
FESPACO is the Pan African Film and Television Festival of Ouagadougou, a much known event that is organized only every two years. It is a platform for African filmmakers to show their movies, produced in Africa, their technique, and also show how important the topics are, as well as give their contribution to the awareness raising and education in Africa. This is for me an important tool in Africa and in the diaspora to learn about the whole continent and also to raise their voice. It was also critical for me to bring the FESPACO feeling in Vienna as I started in 2017 with the first Mini FESPACO Festival. I noticed that people were very interested in watching African cinema. Indeed it is not easy to have good and internationally renowned African movies in Vienna. I put an emphasis on raising awareness on this major event hosted in West Africa since 1969. Thus, last year in 2019 we had the second edition of the Mini FESPACO Festival in Vienna in cooperation with the Embassy of Burkina Faso.
Your commitment to the African diaspora in Vienna speaks for itself. What will be your advice to women from the African diaspora to grow and impact the society they live in?
I have noticed that African women in the diaspora are very active in Austria. We have a lot of expertise, a lot of women who are making things happen in their communities through their numerous associations and activities. I also think that this is very important that women come together, share experiences and try to organize joint pan African activities so that not everybody organizes events about his/her country. I would also like to see more women in the diaspora go for politics to raise their voice because we have a lot to say but very few representatives, we need to go into politics and try also to give some direction in the political discourse in this country.
Let's make your Chinese portrait!
● If you were a country, which country will you be…?
Burkina Faso!
● If you were a delicious meal, what will it be …
It is very difficult question, because I love to cook, it is one of my hobbies; I like so many international and African meals etc. But let's say peanut butter soup with rice (Mafé).
● If you were a musical style…
It will be Caribbean zouk, I love the melody and the sensuality of this music.
● If you were an animal…
I will definitely be a bee, because a bee is definitely intelligent and very active. When you see bees working together they are very organized. I am also very organized, focus and they produce something that is sweet (honey). And I think with my personality, I produce things that are sweet wherever I am and I try to be good to people.
What is your favourite quote?
"I want people to remember me as someone whose life has been helpful to humanity" (Thomas Sankara)