Her life was not really a bed of roses… overcoming social stigma in her childhood, Joana Adesuwa Reiterer has proven to be an incredibly resilient woman. She is now a successful entrepreneur committed to empowering other young women in West Africa and to give back to disenfranchised communities. Let's meet a multi-faceted and talented woman who cannot be boxed in.
Tell me about yourself. Who is Joana Adesuwa Reiterer?
I am me, I am just me. I am someone who is enthusiastic and has dreams I want to achieve. I will not give myself the labels of a mother or an entrepreneur. I am just me with dreams and purpose.
Share with us 3 adjectives which describe you the best.
Enthusiastic, bold and sassy!
You are a designer and launched your own brand Joadre, where does your passion for fashion come from?
I don't see myself as a designer or label myself a designer. When it comes to my fashion projects, I am a more of a purpose driven entrepreneur. When it comes to the projects we make, it is quite a process with retailers. For me, the passion isn't about designing at all, the passion for me is about the impact that this project is creating specifically. I ask myself: How I can use my passion to support young African women. Before we start a project I do research so that I can figure out which target group I want to empower, what their skills are, and the skills that were standing out were tailoring and fashion sawing. Even though I had a boutique when I was sixteen, I had no real connection to fashion, I just had the passion to follow the goals, using the skills, and resources these target groups had.
In your early years in Nigeria, your prime career goal was to become an actress. Can you tell us about your journey in the movie industry and what does it mean to you?
When I was 15-16, when Nollywood was really starting to grow, I had a dream of being an actress. As time went by, I realized that acting was not my dream, rather, my dream was to use the medium of videography or filming to communicate. When I started I had classic amateur roles, I think I did 2 movies. And then, I landed one major role in a film called Immortal.
At that moment in my teens, I was open to further exploration. When I moved to Austria I had an acting role in the theater, another for the UN in New York and another in the Austrian Parliament, those were exciting experiences for me. But as I grew older I came to realize that it was not acting that I was really passionate about, but rather, the ability to use that artistic medium for emotion and to communicate to an audience.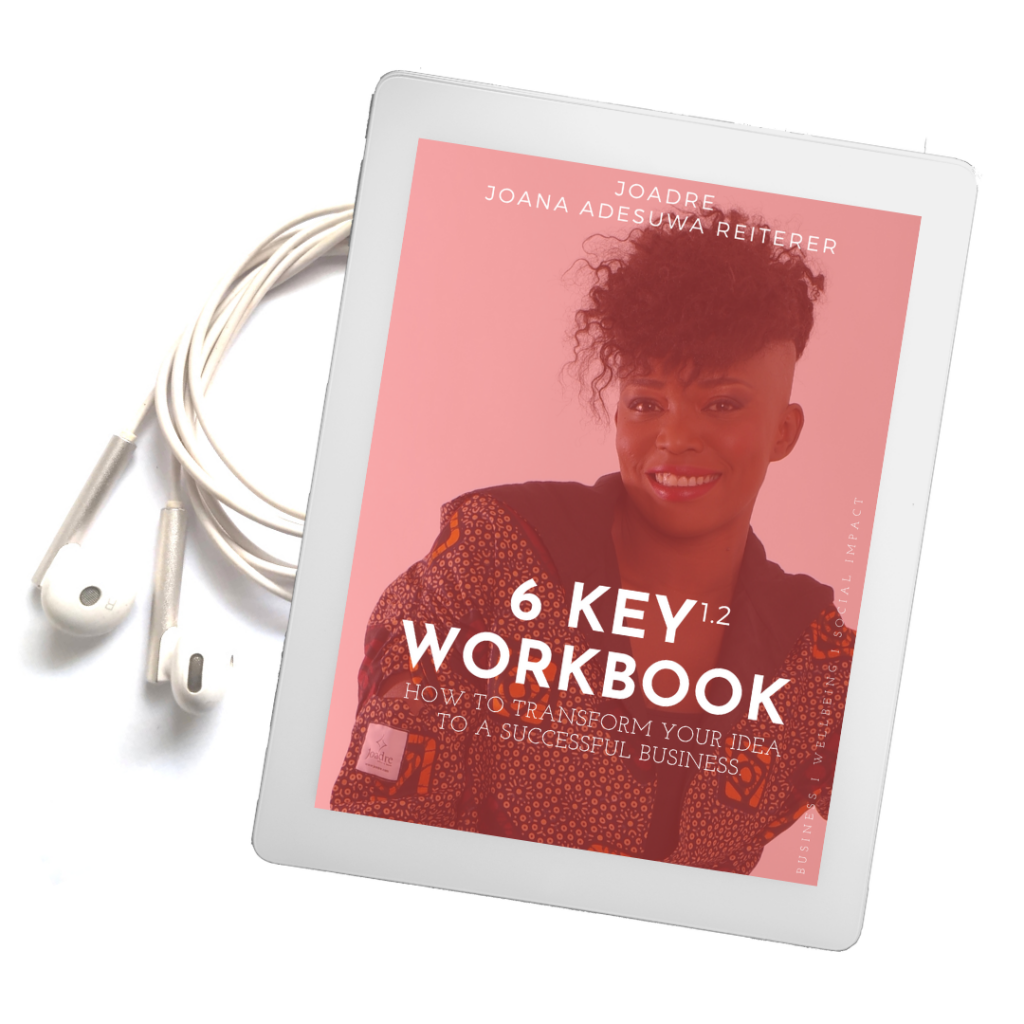 In addition to your fashion brand, you have also founded the Joadre Entrepreneur Lab. What inspired you to empower younger entrepreneurs?
What inspired me and what keeps inspiring me, is the feeling of giving back to the community. When you start your life, you are trying to live it, but then you come to a point where you look back on your journey and you appreciate the fact that you might not have it all, that realization made me grateful that, although I didn't have it all, I had what I needed to live a happy life. So then I asked myself; how I can my story contribute so that another African woman so that she lives the life she desires. That's what drives me and that's what I am passionate about, how I can give value to someone else' life, and this happens every time I go to Lagos, because Lagos is so inspiring. I think Lagos is the place I enjoy the most in the world. It is filled with so much inspiration, looking at the way everybody, in their own space, is trying to create the life they love. These are the things that inspire me.
Besides your business, you are a staunch activist against human trafficking. Can you tell us more about this topic close to your heart?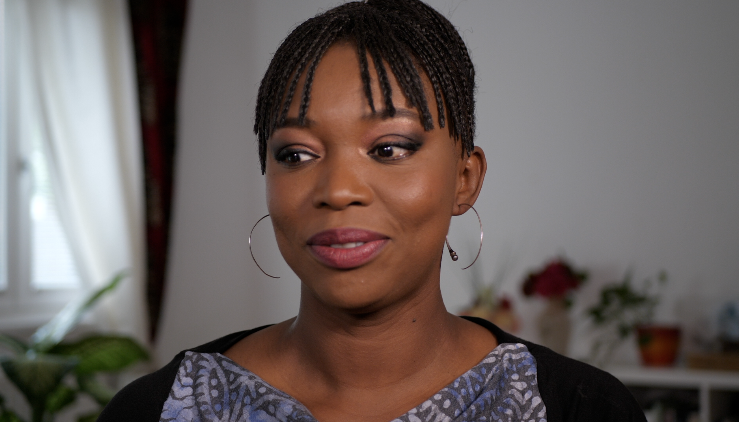 Human trafficking is still happening, it is a global problem, I come from a region in Nigeria, Edo State, where unfortunately so many women are affected by human trafficking. During my journey to Austria, I personally was affected by that problem. I realized "Oh my God", so many people in Nigeria do not really know about this and because of this I started to raise awareness. I have been working with women who have been victim of human trafficking, I realized that we need to keep talking about it.
The first time I met you was at the stand-up comedy show, where you were actually performing. You are definitely a full circle artist, what keeps you going?
Yesterday I was sitting down, reflecting on what I really enjoy doing and I came to the conclusion that I am an artist, I try to use every expressional methods to achieve the goals that I want to achieve, even for business related ventures and so forth.
Right now, I am creating a project that will hopefully be out in autumn. It is an online show that demands that I bring in so many artistic skills.
I love doing stand up comedy, which I enjoy, I am bit sassy, maybe a bit direct, and it allows me to express my thoughts without filtering them, and I also get to share my experiences. Unfortunately right now there is a pandemic going on so… I decided take my energy and re-direct it.
Name one person who inspires you and why?
There are so many people that have inspired me that I can't pick just one person, I would maybe say Oprah Winfrey? I don't know her, we've never met but she just inspires me. My grandmother also inspires me. She is strong, she is someone that followed what she wanted to do as far back as she was born, and she also traveled a lot due to her career in the military. Just watching her life, I was like "oh my God she had only one child, my mother". She was a strong woman but at the same time she has something that calms everybody around her, and that is what I need to get into; Life is good, everything is okay. She has that, adding to her strength, her enthusiasm, and despite her career-driven life, she has the quality of enjoying the moment.
You are also a published writer. When did you first realize you wanted to be a writer? And what was your last book about?
My mom told me a story; when I was a child I used to write so many stuff and throw it away or put them under my bed. As I mentioned before, I don't want to be a writer, this is not what I see myself doing, what I know what I am passionate about is creating content. My last book was about researching witch hunting in West Africa. I personally experienced something like this in my family, where women are basically violated and experience violence because family members believed that they had supernatural powers. I just wanted to know more about this and went on a journey to Nigeria and to Ghana. We learned that these women were actually out of the norm, they were extraordinary women that had special talent and I realized that this was exactly the same thing that happened in Europe during the middle-ages, where women of unusual knowledge and talents were also prosecuted as witches. So I went to see how it has been in Nigeria and Ghana, to experience the lives of these women and wrote about it in my last book called Hexenkind, it was more like a documentary, I even had a documentary that was aired on national TV in Austria and in Germany.
You have a great interest in international relations and migration, can you tell us more about your previous collaborations and projects with the United Nations?
My last project with the UN was about human trafficking as well. We wanted to raise awareness using artistic medium again (laughter). So we had a film festival, and we toured cities and states in Nigeria. At the same time we also trained European police officers, law enforcement in the justice system and social workers. We took 18 trainers from 6 European countries and went to Nigeria to train them and raise awareness using films. It was an amazing project, a massive one but really exciting. It was a project with UNODC and IOM.
As a successful entrepreneur and a woman of vision, what is your advice to women of the African diaspora to thrive?
That's something I have been researching and observing for the past few years. My advice to them is focus, focus deep. If you want to thrive in whatever you are doing, be it your career, or your business, or your project, you need to learn how to exercise deep focus and try not to stretch yourself too thin. There is this mentality of being so creative that you will start so many things at the same time, maybe in order to get many income streams at the same time? I am for multiple income streams and expressing yourself, but it's also important to get the timing right. At a particular time if you want to thrive, exercise or learn deep focus, because it is not easy to deeply focus in what you are doing, focusing will help you squeeze out every potential in a particular idea. That's my advice for any young woman who wants to be successful, be it in African diaspora or an African in Africa.
Let's make your Chinese portrait!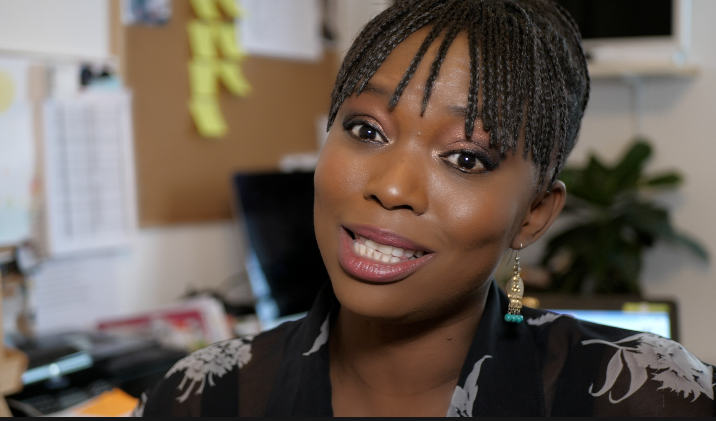 ● If you were a country, which country will you be…?
Seriously?! (laughter) I will be Nigeria.
● If you were a delicious meal, what will it be …
It would be one particular meal that my grandmother used to cook, it was ogbno soup and pounded yam, but not just any normal ogbno soup, this one is burnt a bit under the pot, to give it a more intensive taste. As for the yam, I meant a real fresh pounded yam, not the powdered one, I am talking about cooked pounded yam.
● If you were a musical style…
I would be Blues. I listen to many and different music but I love blues because it is like listening to stories being told.
● If you were an animal…
It would definitely not be a dog (laughter). I see myself more as an ant, because I believe in the collective value in working in a group, and if anybody wanted to kill me, they would have to really bend down to notice me.
I don't want to be a typical exotic animal, such as a lion, because that's just too much energy, and then you have European Safari tourists coming to look at you and you won't be profiting from it, because it's not like they are paying you for it, that's why I'd rather be an ant.
What is your favorite quote?
"People will not remember what you said or did but they will remember how you made them feel" – Maya Angelou