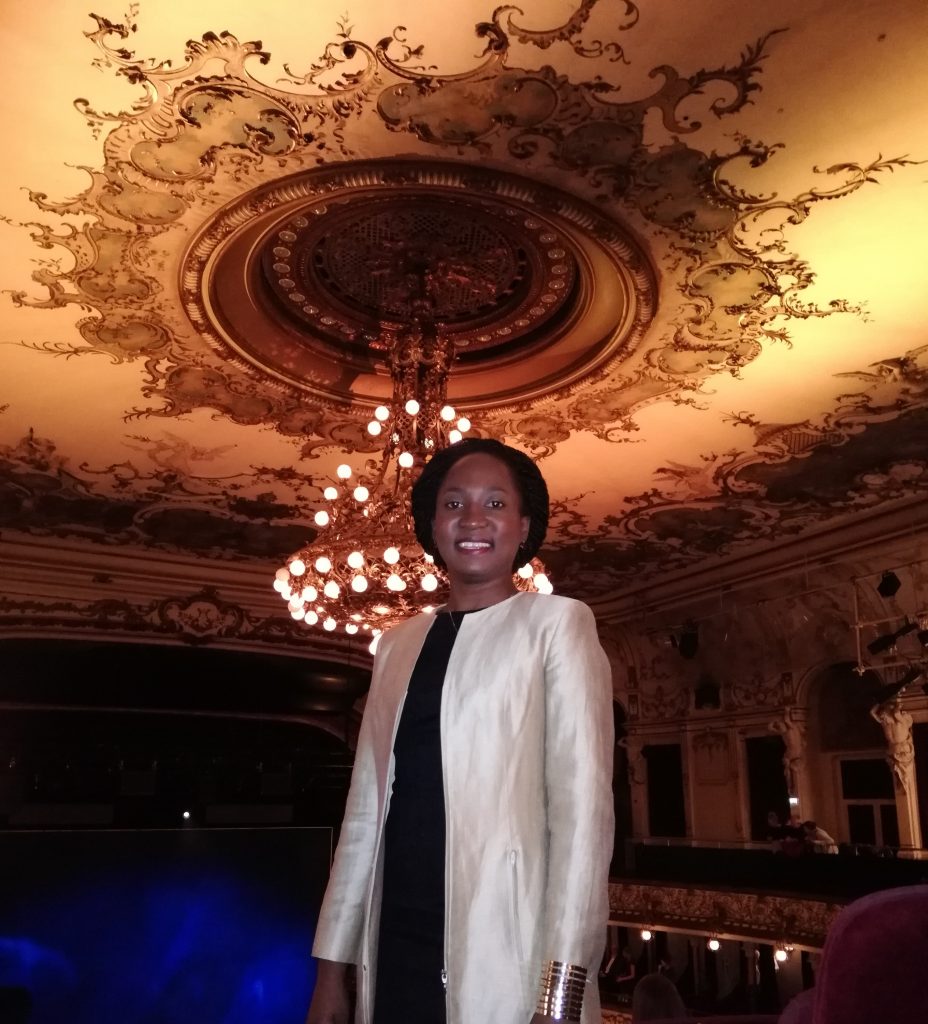 Today meet my guest Sheron Dzoro an outstanding Zimbabwean immunologist based in Vienna. Her humble beginnings in the suburbs of Harare did not prevent her from pursuing her passion for medical science. Determined to change her fate, the young woman rose against the odds.
Tell me about yourself. Who is Sheron Dzoro and what is her personal background?
I am a 36 year old Zimbabwean. I come from a ghetto called Mufaakose in Harare the capital city of Zimbabwe. I grew up in my grandparents' house because my father's relatives stripped us of almost everything in 1998 after my father died suddenly in a car crash. Unfortunately it was not unusual in Zimbabwe in those days, that a man's extended family would take away all belongings from his widow and children after the man's death.
I am a medical scientist by profession I completed my Bachelor studies in Zimbabwe in 2007, my Master studies in Botswana in 2013, and my PhD studies in Austria in 2019. I worked in Botswana for 5 years in HIV research and I got my Master of Philosophy degree by researching mother-to child transmission of HIV. Shortly after completing my Master studies, I got a scholarship from the Austrian Science Fund (FWF) and I pursued Doctoral studies in immunology and allergies. After obtaining my PhD degree, I volunteered with MSF Doctors without Borders, in a humanitarian Mission in Central Asia, where I worked in a project for pediatric HIV and tuberculosis and. I returned to Austria shortly before the first national COVID-19 lockdown in March 2019, and I worked briefly in COVID-19 PCR testing before re-joining the Medical University of Vienna.
Looking back, I appreciate that it is the very strong vision that my mother had for my life that has brought me this far in my career.
Share with us 3 adjectives which describe you the best.
I am passionate, compassionate and determined.
You defended your PhD on immunology and allergy at the Medical University of Vienna, can you tell us more about it? What inspired you to choose this specialty?
I love medical science in general, but immunology is my biggest passion. May fascination with the human immune system was sparked at the very first immunology conference that I attended in Victoria Falls in Zimbabwe in Nov 2007. There, I met the Austrian Professor, who became my PhD supervisor 6 years later. A functional immune system is a critical part of good health. Towards the end of my Bachelor studies in Medical Sciences, my mother installed broadband internet for me at home and this opened up a lot of possibilities for me and I attended several international immunology meetings and trainings around the world. From then, I stayed in the field leading up to the completion of my Doctoral studies in immunology and allergies.
What motivates you to get out of bed in the morning?
I think there are two things that can push someone: love of success or fear of failure. As for me, my fear of failure is greater than my love of success. I know that my failure is not mine alone, just as much as my success is not mine alone. I am afraid to fail the people who have sacrificed so much for me to get to where I am today. I am afraid of failing my mother and all the people who have helped me and believed in me along my path. I am afraid to fail the younger people who could be inspired by my story, to dream big and reach greater heights. So I can't give up. I just can't.
As a biomedical scientist what was your contribution during the COVID 19 crisis in Austria and in your view what are the lessons to be learnt from this pandemics regarding public health?
I worked briefly in COVID-19 PCR testing during the height of the second wave in Austria. It was a very challenging time with mostly long working hours. There was one time that I started work at 2 pm and finished at 4:30 in the morning. I love to teach, so during this time, I also trained younger and less experienced colleagues and inspired them to have pride in their work, reminding them of the huge impact medical test results can have on people's life and healthcare decisions.
Regarding the public health lessons to be learnt from this pandemic, I remember seeing a University logo at that said: "If you think research is expensive try disease…" I think the COVID-19 pandemic has sparked a universal appreciation for science and research throughout the world. There is a heightened interest in clear to virology and immunology, and through vaccines, medical science has given mankind hope for survival. Immunology and virology, have literally saved the world!
I however wish that there could be a better appreciation of laboratory research scientists as well a testing technicians as frontline workers in the COVID-19 crisis. Sometimes they are easily overlooked and perhaps overshadowed by the more visible professions in direct clinical care (such as the doctors and nurses). Let us not forget that there are essential workers keeping the laboratories tests flowing to guide clinical care.
You were a research assistant at the Harvard AIDS Institute Partnership in Botswana, What are the most valuable lessons that you learned from this experience?
I have learnt good lessons and quite uncomfortable ones. The partnership between the Harvard AIDS Institute and Public Health Department of Botswana is a good and very fruitful collaboration. However on a general note, I think African leaders need to make greater initiatives and invest more into medical research in diseases that affect the African people directly namely HIV, tuberculosis and malaria. I think there is a danger of relying solely or largely on foreign researchers to provide funding and establish research institutes with minimal efforts of the local leaders.
Which person inspires you the most and why?
My mother inspires me the most over the years, I have come to understand more and more the sacrifices she made to raise me and my 2 siblings. My respect and appreciation of her strength and determination, continue to grow as I encounter more challenges of life.
In October 2020 you were a panelist at the awareness raising talk on the movie "The Fever". This thought provoking film criticizes the unwholesome game played by big pharma corporations and strongly advocates for African grown solutions. What are your thoughts on this issue?
I understand that there is currently a lot of criticism, mistrust and possibly misunderstanding of the pharmaceutical industry in general. However, I think it is important to remember that whilst the role of pharmaceuticals is to produce life-saving medications and treatments, pharma is an industry and not necessarily a charity organization.
In the same way, bakeries provide essential bread for people at a cost that ensures that the bakeries are a sustainable and viable business. As an African, I think we Africans need to demand more accountability from our leaders on channeling national resources to medical research and investments for the greater good and benefit of the local people. We cannot reap where we did not sow. Unless local authorities invest significantly in local research for local diseases, by the local people for the local people—there will be a continued reliance on foreign solutions for local challenges and that always comes at a cost!
What is the hardest about becoming a doctor?
I am a medical scientist and I a doctor of science (PhD) and for me the biggest challenge has been breaking new grounds. It is not easy to walk the path that few have travelled.
What is your superpower?
My passion for medical science
On a scale of 1 to 10, how weird are you?
I will say 5. I think I am just as weird as I am normal.
What is your advice to young women who would like to pursue a fulfilling medical career?
Don't do it if it is not your passion. Don't do it because it is popular. Do what expresses your gifts and expands your joy!
Let's make your Chinese portrait!
● If you were a country, which country will you be…?
I can only be Zimbabwe. You can take me out of the Zimbabwe but you cannot take Zimbabwe out of me.
● If you were a delicious meal, what will it be…
I will be the staple meal from my home country: Sadza (white polenta) with a traditional (road-runner) chicken and some fried green leafy veggies.
● If you were a musical style…
I would say Sungura music (with a characteristic guitar sound—rythms of Southern Africa)
● If you were an animal…
A bird, because it flies is many places but always returns to its nest.
What is your favourite quote?
"If have seen further than others, it is because I have stood on the shoulders of giants".