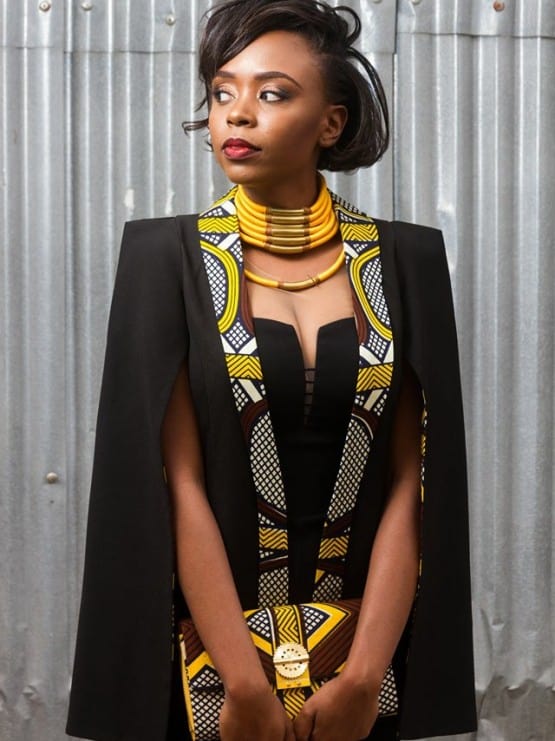 Maureen is one of those young women who just stand out. But beyond her style and presence, the 31- year-old Beninese is a savvy businesswoman who will continue to make the news…
A Hobby that became a business
Nothing predestined the linguistics student to start a business in the fashion industry. Maureen's mother and grandmother had always sold African style fabrics, "I was literally born in wax prints" as she likes to tell jokingly. She always had an eye for African style fabrics but nothing very serious in her young mind. As a teenager she would fancily customize her school uniforms and accessories with wax fabrics, to the astonishment of her school mates. Gifted in foreign languages, she first learns Spanish, then specializes in sign language.
It was in her college years in France, that her passion for wax prints overtook her. In 2008, Maureen created a Facebook page "J'aime le Pagne de chez moi" (I like printed fabrics from home) on which she shared her favourite looks and outfits. The platform soon became a success generating thousands of followers to her great surprise once again. In search of inspiration, the latter would ask her fashion tips or just simply reproduced her outfits. It was not until she decided to fund her internship in Bulgaria (4 years later) that she realized what she thought was a mere hobby had great potential for business. She invested her then scholarship of 1500 EUR and arranged a private sales at a friend's flat. The event turned out to be a blast: 200 hundred customers showed up in the 18m2 apartment and all her items were sold out on the spot.
This event was a turning point for Maureen, as she decided to postpone her internship and dedicate full time to her business. And the rest is history …
An amazon in unchartered waters
Today Maureen is a famous face on the web, one must say that her fresh cuts, bright colours, chic attires just beautify women's bodies. An Ace of social media, she smartly promotes her brand on Instagram, Twitter, Snapchat with gorgeous pictures and settings worthy of fashion magazines.
If Maureen has never studied fashion, her natural sense of fashion and sharp business skills have conquered the public in Africa and overseas. Her growing fame was not an easy ride though…
Indeed, in West Africa and especially in French speaking countries the garment industry is still facing huge challenges. Very low qualification of workers, relatively high costs of production, limited access to funding, a local market dominated by a very strong informal sector where copyrights just do not exist.
As she admits herself, she owes her success to her passion and determination. With her great attention to detail, smart branding and commitment to quality she is always 2 or 3 moves ahead of her competitors.
In the black continent, many still don't see the value of the ready-to-wear industry arguing that local tailors and craftsmen can still make garments at a low price. Never mind, like many other African designers on the rise, Maureen is striving to contribute to the emergence of a quality-oriented, world renowned and strong African fashion industry. The potential is real, even if the path is full of pitfalls.
Reaching out to the world
If private sales across Africa, Europe and America have been key to the growth of her Brand, Nanawax, Maureen has also successfully opened four shops in Cotonou, Abidjan, Dakar and Brazzaville.
To the date, her company employs more than 30 people and her annual turnover is estimated at least at 200 000 Euros. Maureen does not intend to stop there. She raises the bar high and wants to go beyond the African and diaspora markets and establish a global brand name just like Zara. Her ambition is to provide quality and trendy fashion to the masses, all with her inimitable an African touch. Her major challenge will be to meet the demand that is currently much higher than the enterprise's productive capacities. Fair enough, Maureen is determined to conquer the world to the greatest delight of her customers!
Hawa