Promised to a great career in the renowned American multinational General Electrics, Swaady Martin dropped her high profile position to start Yswara, a leading African tea luxury brand, with its products being fully sourced in the continent, crafted by local craftsmen through a combination of traditional techniques with unique modern designs. Let me introduce you to a radiant and ambitious woman, who is preserving African culture and history with style and elegance…
In the noble heart, valour's no need of years!
If you like putting people in boxes, you will have a hard time defining Swaady… As she loves to say, "I'm a true afropolitan and a global citizen". She was born in Cote d'Ivoire to an Ivorian-Guinean-French mom and an African-American dad with German origins. She was raised in Abidjan, Dakar and Monrovia, as a result was instilled with a deep passion for Africa and a strong sense pan Africanism. She is also not shy about her love for travel, to date she has lived in more than 11 countries.
As a child, her schoolmates were always annoyed with the answer she was giving when asked where she came from, that's because at a young age she decided not to let other people define her and to fully embrace her multi-faceted identity as a gift and a strength.
After finishing her Masters in Economic Sciences at the University of Lausanne Switzerland, she landed her first job in Accenture in France for one year and later joins the American giant General Electrics as an internal auditor.
Then things have moved very quickly from there, at the time General Electrics was trying to expand its operations in Africa since the early 2000sand was looking for a team of experts to prepare and implement their strategies which would spearhead the American giant's entry to the great continent.
Even though, she had only worked there for 1.5 years, Swaady spontaneously volunteers to give a helping hand.
During her weekends and after regular working hours during the week she conducts extensive data collection, market analysis and eventually organized a whole series of trade missions into the continent. Impressed by the quality of her work and her leadership skills, she was hired as the operations executive to Implement General Electric's AFRICA's strategy.
To many of her senior colleagues, this appointment comes as a surprise but Swaady was determined to seize the overlooked and untapped business opportunities in Africa and was ready to take on the challenge.
General Electric's growth in Africa was stellar, for instance from 2003 to 2009 the company's profit grew from 1.2 billion to 3.6 billion, the employed workforce multiplied by 10, rising from 200 to 2000 coworkers. To this date, Swaady's input is still relevant and her A.F.R.I.C.A business model for accelerating the growth of multinationals in Africa has been recognized as a Best Practice and is still shared at various ivy league business schools (INSEAD, Wharton, Harvard, etc) and business forums (Medef).
After only 4 years she was promoted to Director of General Electric Africa at the age of 27. Swaady is a perfect example of how to create opportunities for oneself, driven by her passion for Africa and despite her young age (eligible staff for the director position were on average 15 to 20 years older than her) she took the initiative, went the extra mile, used all she had and most importantly she knew her worth..
Yswara, a luxury brand authentically African
After more than ten years of good and faithful service at General Electrics she held leadership positions in several divisions across the world, with her most recent posting as General Electric Transportation's Director for Sub-Saharan Africa and acting-CEO for General Electric South Africa Technologies.
However the large amount of responsibilities have started to take a toll on her and Swaady decided it was time to take a break and time for a change.
For starters, she took some sabbatical years to complete a joint MBA from the London School of Economics and NYU Stern Business School & HEC Paris. She also worked with local Nigerian start-ups and built connections for her entrepreneurial future, she also studied luxury brands such as Louis Vuitton and Mariages Frères and little did she know that her interest in luxury brands would play an important role later down the line.
Her research in luxury brands gave her an epiphany, designing an African grown global luxury brand that captures the richness and the refinement of the continent's cultures, a brand that can be shared and appreciated by the local and international consumer.
As a tea lover, she decided to compete in the tea market. Tea has been an important part of her life and felt like the most natural place for her to adapt to.
Africa has amongst the highest exporters of tea in the world yet only 5-10% of the final packaged tea value is retained in Africa. She is convinced that Africans can do more than producing "crafts" and "ethnic" goods. She wanted to rebrand Africa not just as a source of raw materials but as a place where high-end products can be produced and marketed and to help Africa escape the commodity tap.
Yswara was founded in 2011 in South Africa and is now present in 30 direct and indirect retail points spread across 17 countries in Africa, USA, Europe and the Middle-East.
The tea blends offered by Yswara are unique and have their own stories to tell: for example the Omuluabi collection describes a person of good character in Yoruba or Teranga (hospitality from Senegal) ; other collections celebrate pre-colonial African kingdoms such as the Sundiata Keita, Shaka Zulu, Askia of Songhoi; the African queens collection commemorate legendary African queens such as Abla Poku or Amina of Hausaland to only name a few.
Yswara also has other products that offer other sensorial and visual experience, such as its soy wax aromatherapy candles, tea spoons and infusers, and artisan jewelry.
To Swaady, developing an authentic African luxury meant identifying with core values and cultural meaning shared by the entire continent. To do so, she founded her entire business model on the "Luxe Ubuntu" concept. Ubuntu meaning "I am because we are" in Nguni (a Bantu family language spoken in South Africa) is an inclusive business model providing economic value and meaningful income to all the members of the supply chain, who participate in the production of products, be it farmers, artisans, artists or manufacturers.
The key values here are community care and wealth creation. Yswara also puts a great emphasis on empowering women, indeed, the Yswara team is composed exclusively of African women, and 75% of our suppliers are companies owned or run by women. With regard to value addition to the local economy, Yswara can boast about keeping its promises since the brand retains 90% of value added in Africa.
The sourcing of its tea is clearly ethical, whereas the kilogram of tea is usually sold for less than 1 dollar, Yswara buys it for a price ranging from 80 to 120 dollars, which makes a tremendous impact on the lives of local producers. In the same vein, Swaady is committed to create a conducive and soothing work environment both in offices and factories (beautiful workspaces carefully arranged, transport provided for township staff, vegetable garden for staff, establishment of a compassion fund for burials or health treatment and so on…)
Beyond tea… a wide angle vision
With its booming demographics, rampant urbanization, and youthful population fully embracing technological advances, rising middle class with growing purchasing power coupled with a growing desire for status through the purchase of luxury goods, Africa has all the ingredients united for a sustainable growth of the luxury brand market.
"For the global luxury industry, Africa has always been a source of raw material, inspiration and wealthy consumers around the world who are looking for ever more meaningful brand interactions. International luxury brands have taken note of this trend and have had a growing interest in capturing this opportunity. There are still too few African luxury brands and the few thata re already there are not set-up to take advantage of this opportunity. Hence there's a need for more global African authentic luxury brands."

– Swaady Martin Leke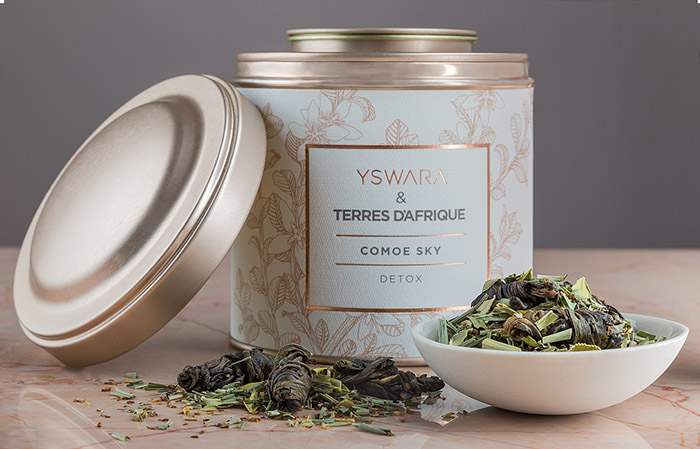 Still many challenges remain, such as infrastructure challenges (phone and internet connectivity, access to electricity, etc), the limited number of high-end outlets necessary to reach consumers and share an authentic African brand experience in general and notably the lack of qualified human resources as a major impediment.
"For a luxury brand to thrive, we need to find, attract and retain the best talents especially designers, managers (marketing, finance, sales), retail and brand experts".

– Swaady Martin leke
Yswara has overcome the issue of poor quality infrastructure and lack of integration between economies by building strong local supplier relationships and looking at innovative ways to sell their products. Today Yswara has a shop in Johannesburg that retails globally through a selective network of distributors. Strategic partnerships have been also formed with brand name hotels such as Sofitel and Radisson Blue, gourmet restaurants, or first class spas such as Four Seasons among others.
In addition, the label was the first African brand nominated for Best New Talent in the Luxury Industry (Innovation Category) by the French Center for Luxury & Creation in 2013.
Swaady is not only an entrepreneur but also mindfulness and yoga certified coach and an author. In 2018, she launched Shift Within, a self-development platform offering courses, programs, workshops, retreats and gatherings promoting mindful living. In the same vein, she also initiated Tounche, a global Consciousness Summit for self-realization, and reconnection with self and others in symbiosis with the environment. To date, more than 800 people have attended the Shift Within programs.
One last thing to remember about Swaady, is that she is incredibly passionate about African leadership. Together with her husband Acha Leke (from Cameroon) the duo participated in the set-up of several organizations, including the African Leadership Network (ALN) and Africa 2.0. Her impactful leadership on the continent has been praised by many, from Oprah Winfrey to Forbes Magazine among others.
Swaady is also a Board member of The African Leadership Institute since 2017 and she is a founding member of Facebook's Leaders Network, an initiative by the social media conglomerate supporting entrepreneurs in emerging markets.
" Developments of our time call for an emergence of the continent. A renaissance from within. It is time to regain our individual and collective power to live our best lives. If we want to change the world, we have to start by ourselves"

– Swaady Martin Leke